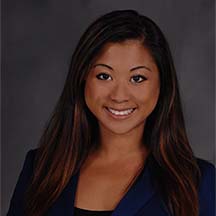 TPC received entries for the sixth annual Dissertation Excellence Award from across the United States. After great deliberation, the TPC editorial board committee selected Stacey Diane A. Litam to receive the 2019 Dissertation Excellence Award for her dissertation, An Examination of Whether Scores of Attitudes Based on Labels and Counselor Attributes Predicted Scores of Human Relations and Beliefs About Rape in Counselors.
Stacey Diane A. Litam, PhD, NCC, LPCC (Ohio), earned a Bachelor of Science in psychology and a Master of Arts in clinical mental health counseling from John Carroll University. In 2018, she was awarded a Doctor of Philosophy in counselor education and supervision from Kent State University. Dr. Litam is an assistant professor in Cleveland State University's counselor education program in Cleveland, Ohio. She is also a part-time instructor at the Northeast Ohio Medical University (NEOMED) where she teaches the Foundations of Clinical Medicine courses.
Dr. Litam has over five years of experience within agency, college, and community mental health settings. She currently works as an LPCC at a Northeast Ohio agency where she specializes in serving survivors of sex trafficking, persons with substance use disorders, and LGBTQ+ clients. She is a researcher, educator, and social justice advocate on topics related to human trafficking, human sexuality, and the phenomenological experiences of individuals with intersecting marginalized identities.
Dr. Litam has facilitated over 50 state, national, and international presentations on topics related to sex trafficking, human sexuality, decolonizing the minority myth stereotype, and the influence of internalized racism and intra-ethnic othering on Asian American identity development. She has three peer-reviewed publications, with two additional peer-reviewed articles and one book chapter in press.
In October 2018, Dr. Litam was contracted by the Cleveland Division of the Federal Bureau of Investigation (FBI) to provide a brief training program that outlined strategies to create a more affirming workplace for LGBTQ+ employees.
In addition to this award, Dr. Litam has won numerous awards for her academic and advocacy work, including a 2016 Doctoral Minority Fellowship from the NBCC Foundation, the 2016 Outstanding Doctoral Student of the Year award from the Ohio Association for Counselor Education and Supervision, the 2017 Humanistic Advocacy and Social Justice Award from the Association for Humanistic Counselors division of the American Counseling Association, the 2018 David K. Brooks Award from Chi Sigma Iota, and a 2019 Outstanding Service to Specialized Populations Award from NBCC.
TPC looks forward to recognizing outstanding dissertations like Dr. Litam's for many years to come.
Read more about the TPC scholarship awards here.