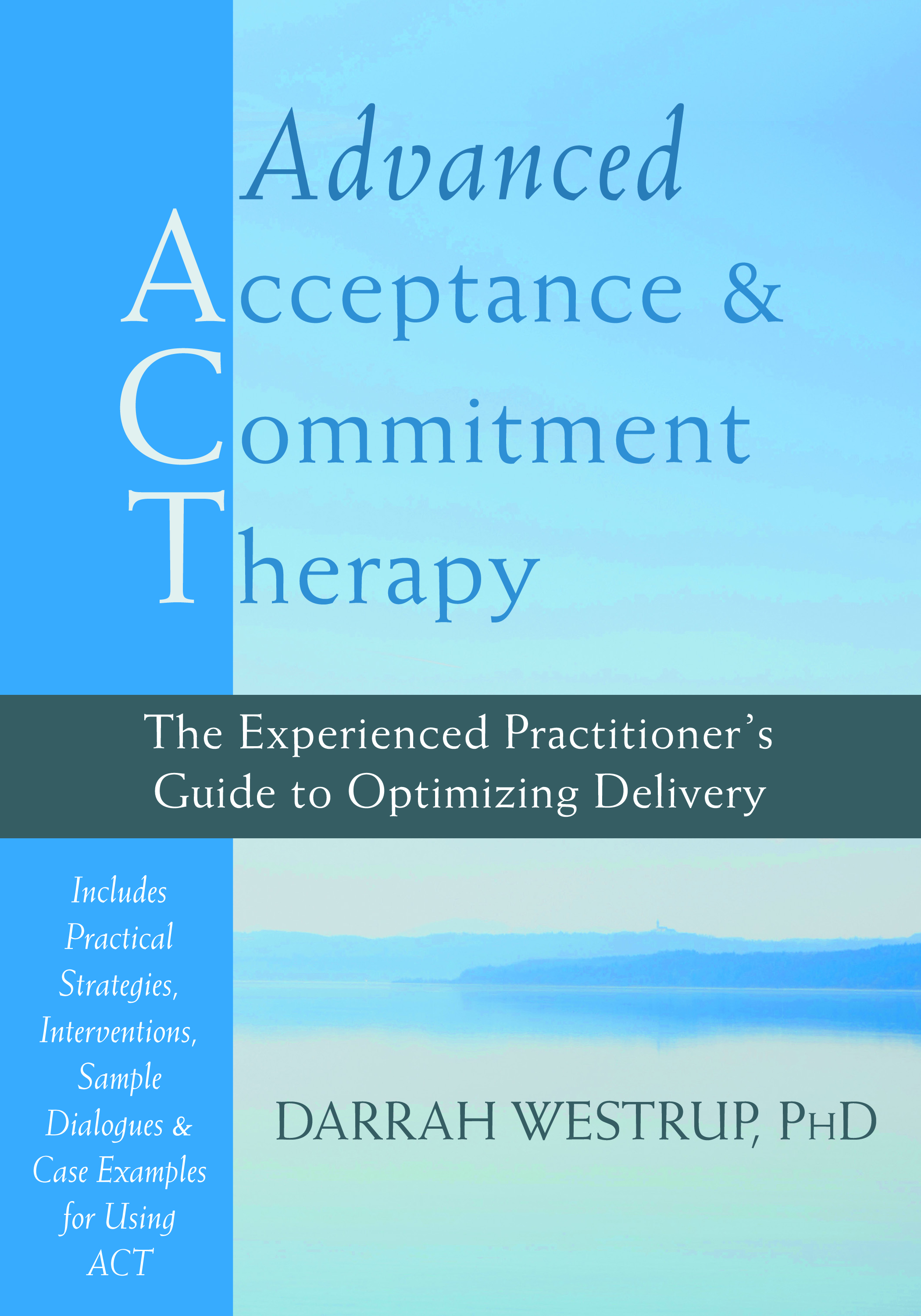 Advanced Acceptance and Commitment Therapy: The Experienced Practitioner's Guide to Optimizing Delivery is a must-have professional tool for counselors with a working knowledge of acceptance and commitment therapy (ACT). The author approaches core material with the personal and professional acknowledgment that all providers eventually flounder and encounter similar difficulties and pitfalls in using ACT. This text is a toolbox of valuable information.
Through valuable tips and discussion of real-life client vignettes, Westrup brings the skills of a talented and sensitive therapist/trainer/supervisor to the fore. Her delivery places the reader in the real world of counseling in which ACT philosophy and techniques serve as the working model. Throughout the book, the author repeatedly emphasizes that ACT is based on prescribed principles and that counselors must not, through personal interpretation or embellishment, wander far from these principles.
For any clinical supervisor—whether trained in ACT or not—this book is an excellent how-to guide for the delivery of quality, professional and most importantly, helpful supervision intervention. Westrup provides one of the most readable and useful texts available for understanding supervision as both a science and an art. Through self-disclosure and example, she demonstrates the need for supervisors to be intentional, purposeful and dedicated to ensuring that trainees grow and mature during the supervision process. Westrup's almost conversational style is the unique and powerful strength of this text. She clearly delivers a succinct message: "Know the ACT delivery model and ensure you stay close to what you know. The theory is the therapy."
The book is effectively and efficiently structured into three parts. Each is organized to address specific issues that arise in the practice of quality and precise ACT. Westrup structures her writing in the first person, lending a sense of an individualized, one-to-one interchange. She leads the reader to an internal dialogue in a thoughtful, exploratory manner. As one reads, it is easy to almost forget that the setting is not a classroom lecture with a mesmerizing professor following a well-organized, bulleted outline. Westrup's writing stimulates strong visual and auditory processing. Chapter titles such as "Let's Talk about Timing," "Optimizing Your Secret Weapons" and "Curveballs And Consistency" leave no doubt that the writer is an authentic, caring person communicating with a real audience even though the audience is actually one reader at a time.
The illustrative sample dialogues between a therapist and a client serve to illuminate each of Westrup's points. The reader can imagine watching a master work behind a two-way mirror. Each of the scenarios fits into a step-by-step unfolding of the points in the ACT model and provides a clear discussion of "stay[ing] close to what you know."
Advanced Acceptance and Commitment Therapy is not a stand-alone training manual for those unfamiliar with ACT theory and practice; however, the author works hard to revisit pertinent points of theory. A key word in her writing is "fidelity." One must have approved training, supervised practice and theory-specific skills to stay true to ACT and effectively and safely use the principles.
Advanced Acceptance and Commitment Therapy, although specifically aimed at enhancing understanding of ACT and building skills for ACT therapists, can serve as a valuable resource for the entire counseling profession. The writing style alone serves as a refreshing model for potential textbook authors. Its clear, clean flow and precise organization stand in refreshing contrast to the plodding, stuffy tomes that so often become required reading for counselors. As a book written by a supervisor who takes supervision seriously and views the interactive process between supervisee and supervisor as the heart of optimal, honest learning, the text is invaluable. Westrup smoothly puts "practical" into practice.
Reviewed by: J. Dwaine Phifer, NCC, Brassfield Center for Psychotherapy and Personal Development, Greensboro, NC.
Westrup, D. (2014). Advanced acceptance and commitment therapy: The experienced practitioner's guide to optimizing delivery. Oakland, CA: New Harbinger.
The Professional Counselor