by Samuel T. Gladding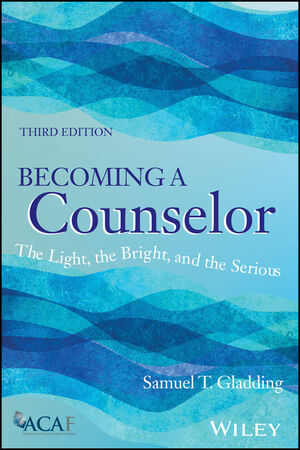 Dr. Samuel T. Gladding's third edition of Becoming a Counselor: The Light, the Bright, and the Serious offers a genuine and insightful reflection of his experiences both as an individual and as a counselor.
In Becoming a Counselor, Dr. Gladding (PhD, NCC, CCMHC, LPC) describes his experiences in counseling through a series of vignettes. These brief but comprehensive stories are cohesively told through his personal lens as a counseling professional. These vignettes range from Dr. Gladding's impressions from his experiences growing up in Decatur, Georgia, to teaching within a counseling program, to the COVID-19 pandemic in 2020.
The book is divided into 17 sections, which contain a series of vignettes and stories pertaining to the section's specific theme of counseling and Dr. Gladding's experiences. Each section begins with a poem, composed by Dr. Gladding, which gives a brief glimpse into what the following section will entail. The third edition expands on previous editions to include an additional 35 vignettes, as well as an introduction that explains Dr. Gladding's personal worldview. In this introduction, Dr. Gladding specifically acknowledges his own biases and experiences that shaped him as a counselor, providing crucial self-disclosure prior to delving into his personal experiences.
Limitations for Becoming a Counselor include the highly personal nature of the majority of these vignettes. Although the themes established within this volume assist with generalizing this knowledge outside of Dr. Gladding's experiences, this book tends to take an autobiographical tone, rather than an educational one.
Nonetheless, fellow mental health professionals can use this book as a useful tool to guide their own journey through professional development and leadership. Dr. Gladding's conversational tone guides the reader toward a deeper understanding of seemingly superficial events.
The primary strength of this book is within the universality of its themes. Through interweaving brief stories about his experiences, Dr. Gladding shares both ordeals and successes in vignettes that can easily be incorporated into a class lecture. Practicum or internship courses would doubtlessly find short stories detailing Dr. Gladding's experiences as useful material to discuss within the classroom. Another strength of this book includes its organization of seemingly enormous and intimidating topics, such as finding success in academia, and then taking the teeth from these topics by including fun, good-humored titles for the individual vignettes. Although many books are professional in nature, it is rare to find one that also carries a sense of humor. However, Dr. Gladding does not shy away from the more serious topics of counseling.
If you read this book, you will undoubtedly find it difficult to put it down. This book reads more as a story than a text at times, which will more than likely lead to you finishing it by the end of the day.
Although not entirely educational in nature, Becoming a Counselor carries lessons from an autobiographical standpoint that many counselors can value. This edition was one of Dr. Gladding's final works prior to his passing in December 2021. Within the latest edition of his book, Dr. Gladding encourages the reader to carry a level of levity, insight, and seriousness as both a counselor and an individual through their own experiences.
Gladding, S. T. (2021). Becoming a counselor: The light, the bright, and the serious (3rd ed.). American Counseling Association Foundation.
Reviewed by: Katie Michaels, MA, NCC, ALC