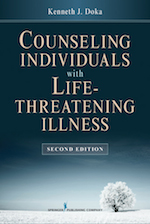 The counselor's role when working with an individual with a life-threatening illness is not always straightforward. Counselors sometimes do not know or fully understand how to work with these clients, as treatment is frequently exclusively biological and often ignores psychological, social and spiritual factors. However, Doka stresses the importance of interdisciplinary teams using the biopsychosocial-spiritual model in the treatment of individuals with life-threatening illness. In his book, Doka clearly outlines and demystifies the role of counselors who are working with these individuals and their families.
The second edition of Counseling Individuals with Life-Threatening Illness includes updated information, such as models of concurrent care and counseling families throughout life-threatening illness and during the grieving process. Following a brief introduction, Doka begins Chapter 2 by discussing historical perspectives on dying and illness, and then explores early and contemporary contributions on dying. Doka follows with a chapter on the seven sensitivities of effective professional caregivers: sensitivity to the whole person, pain and discomfort, communication, autonomy, needs, cultural differences and treatment goals (Chapter 3). He thoroughly depicts each of these sensitivities, and then describes the specific skills counselors need in order to work effectively with families and individuals impacted by life-threatening illness (Chapter 4). In this chapter, Doka includes a discussion on sensitivity to various age groups, populations and generational cohorts, as life-threatening illness impacts individuals in various phases of the life cycle in vastly different ways. This segment includes information on working with children, adolescents, older adults and individuals with intellectual disabilities. Chapter 5 describes possible responses to life-threatening illness, including physical, cognitive, emotional, behavioral and spiritual responses. Doka outlines the role counselors have in assisting clients with recognizing how they are impacted in each of these areas when responding to the crisis of illness. For counselors who desire to strengthen their understanding of the illness experience, Chapter 6 provides a discussion on the numerous factors that may influence the client's experience of illness.
Chapters 7–11  recommend ways to effectively work with clients in each phase of illness: "The Prediagnostic Phase: Understanding the Road Before,"  "Counseling Clients Through the Crisis of Diagnosis,"  "Counseling Clients in the Chronic Phase of Illness,"  "Counseling Clients in Recovery,"  and "Counseling Clients in the Terminal Phase." Doka gives a great deal of attention to assisting the client with expressing his or her feelings and fears, as well as preserving and redefining relationships with family members, friends, and caregivers. Chapter 12 explores ways to counsel families throughout each phase of a life-threatening illness, including how to continue to work with these individuals following the death of their loved one.
Counseling Individuals with Life-Threatening Illness provides a practical guide for counselors who work with clients and families impacted by life-threatening illness. The language and content are appropriate for undergraduate and graduate courses, as well as workshops and trainings for professionals. Doka integrates examples from his own personal work with clients, which makes the application of concepts and theories presented in this book easy to comprehend. Doka also includes an appendix with discussion questions, role-playing scenarios, and case studies that may be used for workshops, trainings, or activities in a classroom setting. As the healthcare system continues to evolve, Counseling Individuals with Life-Threatening Illness is a valuable resource for counselors as they find themselves working on interdisciplinary teams with individuals and families impacted by life-threatening illness.
Doka, K. J. (2014). Counseling individuals with life-threatening illness (2nd ed.). New York, NY: Springer.
Reviewed by: Rebecca G. Cowan, NCC, Eastern Virginia Medical School, Portsmouth, VA.
The Professional Counselor