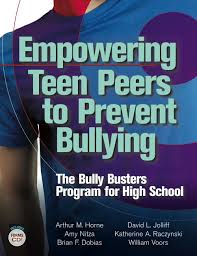 In this manual, the authors provide a research-based model for developing safer and more inviting schools. This well-written manual is logically ordered and based on expertise and experiential success. Teens teaching one another is the cornerstone of this empowerment program. Upperclassmen intensively train to become peer leaders for freshmen, conducting small group sessions during school hours. As the group matures, the leaders focus on building interpersonal and community connections. Teens begin talking about, and honestly listening to individual experiences with bullying, teasing and harassment at school. Trust building becomes the foundation for acceptance and personal growth. Through empathic understanding, students gain courage to confront bullying and avoid passive acceptance. The productive communication training material stresses that "talking at or about" is not communication, whereas listening is the key. Choice-making practice leads students to "stop, think and decide" before acting. Learning about locus of control aids the understanding of how "out there" influences "inside" in decision-making. Practice in conflict resolution helps students center on the STOPP model. Learning about healthy relationships ensures didactic understanding and steers behavioral change.
Developmentally, the last half of the manual infuses power into the groups' experiential process. The last two chapters lead students into actualization of their new skills through closure and implementation. This text and its accompanying peer leader guide offer schools a potent and effective way to reduce the venomous, terrifying effects of bullying. Whereas bullying is sometimes written off as "kids being kids," or "a rite of passage," adults must accept that bullying is a pernicious malevolence that destroys. With archetypal teen sturm and drang and a brain that can no longer think like a child's and is incapable yet of full rational adult cognition, even a typical "good" adolescent can fall into the trap of bullying. Bullying may be due to peer pressure, an instinct for social survival, a passive "don't see–don't tell" approach, or a combination of all three.
Although this model and the authors' presentation are sound and strong, one must consider that manuals may not generate results. Effective use of this material requires commitment from dedicated school boards, administrators, teachers and parents. Before starting this program, adult leaders must understand it, have full administrative backing, a strong foundation of parent support, and the kind of group leadership skills and experience that foster solid success. Having worked with teens and schools for several decades, I instantly recognize both the value of this program and the accompanying problems that face even the most dedicated adult leader. Through the program manual, the peer leader guide, and an accompanying CD of forms and handouts, all the necessary tools for success are carefully packaged. To truly succeed, however, the adults implementing this program have to be fully dedicated to total S.U.C.C.E.S.S – Sensitivity, Understanding, Caring, Creativity, Energy, Sincerity, and Support.
Horne, A. M., Nitza, A., Dobias, B. F., Jolliff, D. L., Raczynski, K. A., & Voors, W. (2012). Empowering teen peers to prevent bullying: The bully busters program for high school. Champaign, Illinois: Research Press.
Reviewed by: J. Dwaine Phifer, NCC, DonLin Counseling Services, Statesville, North Carolina.
The Professional Counselor Journal