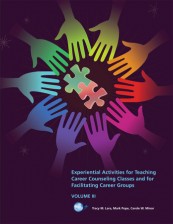 The experiential activities in Experiential Activities for Teaching Career Counseling Classes and for Facilitating Career Groups are an invaluable tool in the counseling field. It is a comprehensive and didactic approach to career counseling for the counselor educator.
Each chapter is well organized in clearly stating purpose, learning objectives, application of theory, target population, setting, materials needed and instructions. The content identifies key areas in career counseling consisting of theoretical orientations in counselor education development, assessment tools, pragmatic exercises and technological resources. The self-knowledge exercises help the counselor educator in resolving one's ambivalence in making sound career choices.
Lara, Pope and Minor incorporate practical lessons that make learning interesting and educational. Important aspects of counselor education have been covered in the book through group activities that enhance self-awareness, knowledge and broaden one's worldview. The 'Order in Chaos' exercise allows an opportunity for counselor educators to perceive the complexities and patterns in career development. The assessments help identify values that counselor educators could incorporate into their training. The importance of networking is highlighted to help future employees in their job search. The exercises focus on preparing future employees in obtaining gainful employment and a successful career path. The book lists various technologies available to counselors to provide vital information and update their knowledge of current research trends in the field of career counseling.
This pragmatic guide for counselor educators reaches out to a diverse population. With an emphasis on career development, the book plays a significant role in helping future counselors with job readiness, which is very vital in today's fast paced world. Gaining knowledge from the book, counselors can become self-confident and motivated in performing effectively in their profession.     
Throughout the book, the authors accentuate core competencies of counselor education. In the reflections and evaluations, the reader can discern several significant concepts in counselor education. Thought provoking objectives, case scenarios and discussion questions throughout the book give the reader a better understanding of each topic rather than learning the material by rote. With limited research available on group counseling, the book guides counselors from all related fields to help clients resolve their problems. The counselor-client relationship is fostered in mutual learning of acceptance, empathy and respect in their interaction. I think this well-written and easily comprehensible book will help educators utilize a hands-on approach in teaching without undermining the theoretical element in counseling. Using assessment tools and practical exercises help in determining the individual's strength and interests.
Experiential Activities for Teaching Career Counseling and For Facilitating Career Groups is a must read book for every counselor educator. The book aims at teaching the material in an interesting manner, while educating counselors to be better clinicians and well-rounded individuals. It is designed in a universally structured educational framework with the objective of producing creative and ethical individuals that value integrity in a progressive world.
Lara, T., Pope, M., & Minor, C. (2011). Title . Broken Arrow, OK: National Career Development Association.
Reviewed by: Shanti Nair, doctoral counseling student, Barry University, Miami Shores, Florida.
The Professional Counselor Journal
http://tpcjournal.nbcc.org