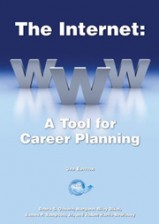 Trying to tame the rapidly changing information on the World Wide Web is daunting, but the additional variable of sorting through reliable and professional sources can seem insurmountable. The Internet: A Tool for Career Planning (3rd ed.) not only helps the reader sort through resources for professionally reviewed online career guidance, but also provides a broad, yet specific approach to using the Internet in multiple forms of career guidance and planning. Essentially, every aspect of the career planning field has been touched by technology, namely the Internet. The Internet: A Tool for Career Planning removes the uncertainty of how to utilize technology when delivering the best career services to a variety of clients.
The breath of this book is quite impressive. For those who are "Internet challenged," this text provides a great foundation to gather a baseline of information. Additionally, for those more comfortable with the online environment, this book provides structure for reflective questioning and planning on how to use the Internet in the best way possible for a variety of clients. This book is valuable for traditional colleges and universities wanting to "keep up with the times" by using virtual career centers, and also for private practitioners wanting to provide a variety of easily accessible resources for their clientele. The 100% online education community where I work can benefit from this book as well, when trying to navigate how to complete career counseling via distance modalities.
But what about updating the hundreds of links to career resources and materials included in this book? Happily, the shelf life of this book in this era of the rapid change and flow of information will not become stale because the lists of resources will be updated bi-annually at http://associationdatabase.com/aws/NCDA/pt/sp/resources.
We need to reach students where they are, and these days they are spending a lot of time on their phones and computers with friends and associates. This text provides a guide on how to use social networking, an unfolding service format, to deliver career services.
Perhaps the most useful part of this text for me was the chapter on potential problems and ethical concerns. The authors have taken their expertise and years of experience and shortened the learning curve for their readers. By presenting the potential pitfalls of using the Internet in career planning, they zero in on areas for caution while also providing strategies for avoiding would-be problems. This last chapter certainly made me pause and reflect on specific situations that may arise with my clientele and how I might implement the authors' strategies for success.
Overall, The Internet: A Tool for Career Planning (3rd ed.) has provided the career planning profession with a go-to guide on how to best utilize the Internet in a wide range of career services with an equally wide range of strategies. This book has a permanent place on my bookshelf and on my Kindle.
Osborn, D. S., Dikel, M. R., & Sampson, J. P. (2011). The Internet: A Tool for Career Planning (3rd ed.). Broken Arrow, OK:National Career Development Association.
Reviewed by: Meagan M. Thrift, Director of Student Services, Centura College, Virginia Beach, Virginia.
The Professional Counselor Journal