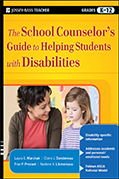 The insight, information and strategies provided in the book, The School Counselor's Guide to Helping Students with Disabilities, are valuable resources for practicing school counselors and counselor educators. The book offers strategies for meeting the needs of students with disabilities more effectively.
The School Counselor's Guide to Helping Students with Disabilities is divided into three parts. Part 1 provides foundational knowledge for school counselors and helps readers integrate information about disabilities into their counseling programs. Chapter 1 highlights school counselors' roles regarding students with disabilities and explains the specialized developmental needs of such students as compared to their peers. Chapter 2 discusses common assumptions about students with disabilities and provides tools to help counselors interact with the students' families more effectively. Chapter 3 explains how to transform a traditional school counseling program into one that facilitates competency development for students with disabilities. This chapter also provides information on including students with disabilities in school counseling programs and offers leadership and advocacy guidelines for school counselors. Chapter 4 explains the school counselor's role in the individualized education program (IEP), Section 504, Plans and Transition Plans. Chapter 5 provides ways for school counselors to form effective partnerships with parents and highlights frequent experiences, feelings and realities of parents of children with disabilities, based on the authors' experiences and knowledge.
Part 2 of the book focuses on the academic, personal/social and career domains from the American School Counselor Association (ASCA). Chapter 6 discusses ways in which school counselors play a crucial role in addressing the academic needs of students with disabilities, and it includes methods that help teachers create positive learning environments for students. Chapters 7 and 8 examine students' social and personal needs, focusing on the effects of peer relationships. These chapters also include strategies for school counselors that promote social integration within schools. While describing the central needs and challenges of children with disabilities, Chapter 9 concentrates on the importance of career education and development. It also gives guidelines on preparing students for the transition from school to work, training or higher education.
Part 3 delivers practical information about disabilities, as detailed within each category of the Individuals with Disabilities Education Act (IDEA). For each disability, the authors provide general information; what students and parents with the disability wish teachers and school counselors knew; practical applications in each of the ASCA domains; and resources containing more information about the specific disability.
The collective knowledge and experience of the authors, who are expert school counselors, make this book rich in valuable content. As a future school counselor, I find that this book provides fundamental resources for assisting students with disabilities. The information in this book soundly represents the ASCA domains for future school counselors. Reading this book would benefit educators, parents and anyone interested in working alongside students with disabilities.
Marshak, L. E., Dandeneau, C. J., Prezant, F. P., & L'Amoreaux, N. A. (2010). The School Counselor's Guide to Helping Students with Disabilities. New York, NY: Springer Publishing Company.
Reviewed by: Estefanía Riveros, Miami, Florida.
The Professional Counselor Journal