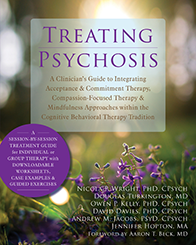 In Treating Psychosis: A Clinician's Guide to Integrating Acceptance and Commitment Therapy, Compassion-Focused Therapy and Mindfulness Approaches within the Cognitive Behavioral Therapy Tradition, Nicola P. Wright et al. offer valuable knowledge and concrete, practical application of theory, interventions and strategies for clinicians looking to augment their work with individuals who experience psychosis. The authors do an excellent job of laying a foundation that explains how psychosis can cause problems for individuals suffering from it, while concurrently maintaining a compassionate stance.
The book is divided into nine modules that build upon one another sequentially and address different components of the counseling process, including initial conceptualization and group implementation, the therapeutic relationship, assessment, treatment planning, emotion regulation and resilience, treating distressing thoughts and voices, and recovery maintenance. Throughout the modules, Wright et al. include clinical examples and exercises to help the reader apply the text to clinical practice. The book also has an abundant appendix of forms that counselors can utilize in every stage of work with clients, from initial screening and assessment to more in-depth work after initial rapport occurs, such as emotion identification, core beliefs, coping strategies and voice management, in order to help clients minimize distress. Additionally, the authors provide a thorough collection of resources and further reading for clinicians to supplement their expertise and practice.
The authors are concise and craft a comprehensive strategy for working clinically with this population in only 159 pages. The text is approachable and conversational and the subject matter is explained with person-centered compassion and sensitivity. The interventions recommended are easy to apply and simple in their explanation. The overarching philosophy promoted by the authors is an intent focus on understanding clients' experiences with voices and distressing thoughts. With this better understanding, clinicians can empower clients to establish more control in their lives using a blend of cognitive-behavioral, compassion-focused, mindfulness, and acceptance and commitment techniques—including commanding voices, bringing beliefs more in line with personal values, and ultimately establishing a more positive relationship with thoughts and voices—in order to enhance emotional regulation, build resilience, and increase overall congruence to decrease distress for clients experiencing psychosis.
The main limitation associated with the book is the breadth of approaches that the authors attempt to include in their comprehensive approach. While the blending of the four separate approaches of acceptance and commitment therapy, compassion-focused therapy, mindfulness, and cognitive-behavioral therapy is ambitious and often successful, at times the overarching strategy comes across as piecemeal and may benefit from a more fully integrated perspective. For example, while the authors utilize a variety of interventions from each of the approaches under the cognitive-behavioral umbrella, at times the integration of these four strategies does not feel fully realized. However, in terms of applying the information in everyday practice, the book is practical and easily applicable.
Treating Psychosis is a useful resource for counselors who work regularly with a clientele experiencing psychosis that interferes with everyday life. The book offers straightforward strategies, interventions and perspectives for decreasing distress around invasive voices and thoughts.
Wright, N. P., Turkington, D., Kelly, O. P., Davies, D., Jacobs, A. M., & Hopton, J. (2014). Treating psychosis: A clinician's guide to integrating acceptance & commitment therapy, compassion-focused therapy & mindfulness approaches within the cognitive behavioral therapy tradition. Oakland, CA: New Harbinger.
Reviewed by: Allison Jeanne Agresti, NCC, McLeod Addictive Disease Center, Marion, NC.
The Professional Counselor