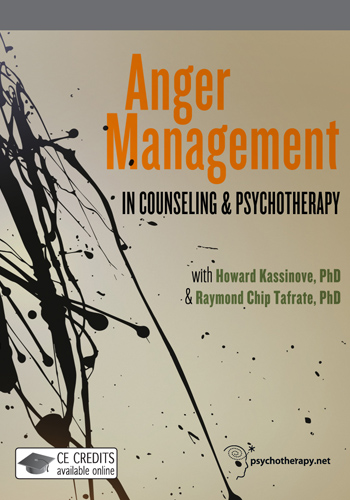 Anger is an emotion that everyone experiences at one time or another. Unfortunately, some people acquire unhealthy ways to manage their anger. In their DVD Anger Management in Counseling & Psychotherapy, Howard Kassinove and Raymond Chip Tafrate present the viewer with a model of psychotherapy techniques geared toward helping counselor educators and clinicians navigate distinctive anger interventions. The DVD's main purpose is to be used as an adjunct to their text, Anger Management: The Complete Treatment Guidebook for Practitioners; however, the videos can be valuable if viewed individually.
The video series presents a solid conceptualization of anger and anger management in counseling. The presenters' main approach is to characterize anger as disconnected from hostility and aggression. In order to support this idea, they have developed an Anger Episode Model to help clients highlight their most troubled areas in relation to anger and to recognize that there is a specific anger problem. In an overview, the authors display a sequence of videos demonstrating techniques to help clients cope with their anger through assessment and awareness. In addition to the introduction and the final comments, there are seven video chapters titled Increasing Awareness, The Anger Episode Model, Progressive Muscle Relaxation, Social Problem Solving, Rational Emotive Behavior Therapy, The Barb Technique and The Outcome of Forgiving.
Tafrate and Kassinove explain the Anger Episode Model in relation to clients in anger management counseling, and also provide examples through actual interviews with real clients. In these interviews, the presenters utilize the techniques and skills discussed within the video chapters. These examples are especially helpful resources for clinicians, as Tafrate and Kassinove not only explain the skills, but also demonstrate them in a realistic environment. Paradoxically, this asset to the video series also can be a limitation, because the interviews may not portray the counseling techniques with clear fluidity, as the presenters must go with the flow of a real counseling session. Furthermore, because every client's situation is unique, at times there may not be a clear process for how the clinicians should apply the model in a particular situation. In addition to the interview examples, the DVD also includes a helpful Instructor's Manual. In this manual, Kassinove and Tafrate provide discussion questions, role-play activities, reaction paper ideas and other resources for instructors to use when teaching a class how to implement anger management in counseling.
Counselor educators and clinicians will benefit from this video series given that the videos present real clients in a real clinical setting. Viewers will be able to appreciate the authentic process of the sessions and gain a better feel for what happens during interventions. Overall, this video series is a great resource for counselors and counselor educators. The presenters explain techniques clearly and concisely, and the model and techniques demonstrated in this series effectively convey anger management as a therapeutic task and provide a holistic approach to helping clients manage their anger. This video set is an effective addition to the Anger Management textbook and serves as a more hands-on teaching tool for counselor educators to include in their classrooms.
Reviewed by Coralis Solomon and Shaywanna Harris, doctoral students in counselor education, University of Central Florida, Orlando, Florida.
Impact Publishers (Producer). (2014). Anger management in counseling & psychotherapy with Howard Kassinove, PhD & Raymond Chip Tafrate, PhD [DVD]. (Available in DVD and video streaming from http://www.psychotherapy.net/video/anger-management-psychotherapy)
Available in DVD and streaming format as part of video subscription at Psychotherapy.net/subscriptions.
The Professional Counselor