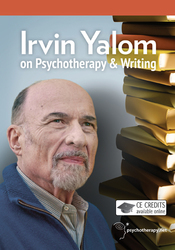 The video Irvin Yalom on Psychotherapy and Writing offers viewers insight into the work of Irvin Yalom through a recorded interview and a question-and-answer session. The interview unfolds around the intersection of Yalom's work as a psychiatrist and a writer. It is loosely organized into six topics, a format that allows for viewing in a classroom setting in very brief segments, or as a whole in approximately 1 hour. The six sections are titled as follows:  "From Psychiatrist to Writer," "A Novel Method of Teaching," "The Spinoza Problem," "Group and Existential Psychotherapy," "The Power of the Therapeutic Relationship," and "Q & A."
The interview is conducted by Orah Krug, one of Yalom's students, and serves as a platform for Yalom's story, which is intrinsically connected to the story of existential therapy. Yalom recounts his late discovery of writing as an occupational option, due to his pragmatic approach to career choice as the son of an immigrant. He goes on to describe how his curiosity about therapists' and clients' experiences; his reading and reflection on history, psychotherapy, philosophy and the evil of the Holocaust; and his practice with and training of residents have all contributed to his motivation to write both fictional and educational texts. The organic and inextricable connection between Yalom's narrative, practice and writing is vivid in his account; and he discloses that his "secret audience," even in his fiction, is the psychotherapy student.
For example, in speaking to his inspirations for The Spinoza Problem, his fascination with the man—whom he describes "as the greatest rebel in history" for challenging the veracity of religion—reveals his curiosity and willingness to take risks to explore the depths of the human experience. In fact, his classic works, Existential Psychotherapy and The Theory and Practice of Group Psychotherapy, represent not only his avid love of reading, but also his willingness to explore new territories in theory and practice as he experiences limits or observes effective interventions. His account is forthright, humorous at times, and refreshing in its candor as he cites intuition as a guide for his theory and practice.
These brief vignettes are an optimal introduction for students of counseling who are studying the helping relationship, counseling theory or group therapy, as well as anyone seeking to understand the evolution of thought and practice in the field. Undoubtedly the most powerful segment of the video for students comes when Krug asks Yalom to speak to his practice, at the heart of which are the central tenets of existential therapy. There can be no more authentic training in existential therapeutic concepts than to have them delivered and modeled by Yalom himself.
In an undiluted, yet accessible fashion, including examples and some of Yalom's own mottoes, he brings the power and primacy of the therapeutic relationship into focus. He offers clear examples of what it means to practice in the here and now, which he describes as the "pay dirt of therapy." He also explores the central role of death in anxiety and his efforts to understand how to integrate this idea in therapy, and exemplifies the ability of the therapist to laugh at himself. He emphasizes the centrality of both truth and risk in the therapeutic relationship, consistently recognizing the therapist's duty to the client and to his or her own work.
The power of this video as a teaching tool lies in its ability to connect students to an approach to practice at its source. Its brief, engaging format offers an excellent complement for counseling courses, particularly those focused on the helping relationship, psychotherapeutic theories, group therapy or ethics. Yalom's own story exemplifies steadfast scholarship; truth seeking through reading, research and experimentation; and courage, curiosity and intuition as central to his work, and thus in itself it is an inspiration for those entering the field.
Reviewed by: Amie Manis, NCC, Cappella University.
Psychotherapy.net (Producer). (2015). Irvin Yalom on psychotherapy and writing [Streaming video]. Retrieved from www.psychotherapy.net
Available in streaming format and as part of video subscription at www.psychotherapy.net/subscriptions.
The Professional Counselor