2018 Dissertation Excellence Award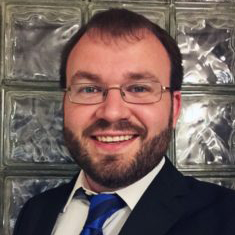 TPC received entries for the fifth annual Dissertation Excellence Award from across the United States. After great deliberation, the TPC editorial board committee selected Christopher T. Belser to receive the 2018 Dissertation Excellence Award for his dissertation, Predicting Undergraduate Retention in STEM Majors Based on Demographics, Math Ability, and Career Development Factors.
Dr. Christopher Belser is an assistant professor in the Department of Educational Leadership, Counseling, & Foundations at the University of New Orleans. He received his PhD in counselor education and supervision in May 2017 from the University of Central Florida, where he also served as an adjunct faculty member and a graduate teaching associate.
Dr. Belser's research interests include P–16 career development initiatives in the areas of science, technology, engineering, and mathematics (STEM), as well as school counselor practice and preparation. He was a co-investigator with the NSF-funded UCF COMPASS Program and has also received research funding from the Louisiana School Counselor Association. He has written numerous articles and chapters on various counseling and career development topics and regularly presents at national and state counseling conferences. Dr. Belser holds service positions with several counseling organizations, serves on the editorial boards of two counseling journals, and is a National Certified Counselor.
Prior to beginning his doctoral work, Dr. Belser worked as a middle school counselor and as a career coach in various schools in Louisiana. He received both his MEd in school counseling and his BA in English (secondary education) from Louisiana State University.
TPC looks forward to recognizing outstanding dissertations like Dr. Belser's for many years to come.
Read more about the TPC scholarship awards here.