edited by Derrick A. Paladino, Laura M. Gonzalez, and Joshua C. Watson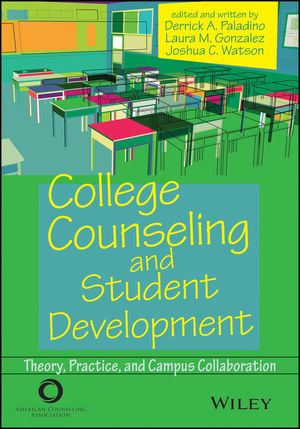 College students today face unique complexity in their world, distinct from the experience of any prior generation—such is the premise of College Counseling and Student Development: Theory, Practice, and Campus Collaboration as it undertakes both to resource and orient today's college professionals. The text leverages the collective expertise of a diverse group of authors to supply a range and depth of information pertinent to the topic.
Several core chapters set the tone by describing the three waves of student development theory. The contributors provide relevant research and critique, helping developing professionals to consider the multiple possible frameworks from which to conceptualize students. The book appears well-suited to an audience of student counselors who can relate its material to personal experience and their observations of peers' learning processes in the class environment. The text offers a holistic presentation of college counseling—development of the field, theory, neurobiology, ethics, key diagnostic presentations, and treatment models—reinforcing master's-level readers' learning from other courses.
College Counseling and Student Development also ushers developing professionals into the myriad expressions of the college counselor role. Chapters detail university to community college distinctions for each topic; track variance in triage and referral procedures; and spotlight a range of campus initiatives, such as suicide prevention outreach and other population-specific needs. Frequent case examples and application questions enable readers to visualize the differentiation of potential professional roles, for instance, academic advisor vs. career counselor. However, the text also engages the audience of administrators of college counseling centers (CCCs) through targeted resources for effective design of center structure and an organized approach to topics such as crisis policy.
As part of the book's conceptualization of students, it briefly references a family systems view. A few chapters identify families as key contextual influences on students during their transition into college and young adulthood and consider possible engagement of the parental relationship within student affairs. Even so, the majority of the work frames students individualistically rather than systemically through the highlighted theories and models of treatment. This approach may overlook fully engaging readers of the family systems viewpoint.
However, College Counseling and Student Development appears comprehensive in its content as a whole. A strength of the text across topic areas is its diversity-focused lens, such as examining the distinct experiences of multiheritage students on campus. Similarly, in their presentation of research, the authors prioritize a social justice perspective. They acknowledge areas of possible bias within historic theories, describing how current models seek to supply the gap, including theories specific to college women's development as learners.
The editors help readers navigate the extensive information innate to the topic through the text's visual organization, multi-chapter student case studies, and explicit chapter goals. Early chapters on interlocking departments, roles, and resources within the college system establish clear definitions for various terms, though readers may still occasionally find themselves needing to refer back to these initial descriptions for clarity. Although the text format presents as lacking pictures, other than occasional charts, chapters engage readers through self-reflection exercises, transforming a rote perusal of the book into one that integrates reader experience.
College Counseling and Student Development lends itself well to an initial reading, and then as ongoing reference material for new professionals who may review theory frameworks and treatment models as they engage in the hands-on application of their work. The wealth of practical resources includes templates for development of outreach programs, such as student education on eating disorders, hotline numbers for mental health crisis support, and links to articles and webinars for further professional development. Additionally, the book shares free as well as membership-based resources for a variety of CCC demographics and administrative team needs—from behavioral intervention team training and risk evaluation tools to mental health assessments and models of treatment.
The details the authors provide develop readers' appreciation for the unique niche of, and resources available to, CCCs. This information may encourage professionals to consider what off-campus, outpatient centers can glean from the advances in this micro-community model. Moreover, the text invites counselors on and off campus to conceptualize the students sitting across from them within the college microcosm, considering their challenges, resources, and cultural experiences, distinct from the average community member.
The book underscores the increasing complexity and frequency of mental health issues for the college population. It subsequently challenges the disparity of priority for college counseling in mental health education programs, which lack adequate orientation of counselors for service to this population. The book's perspective sets a precedent for counselors, administrators, and educators alike to evaluate their respective roles in responding to this discrepancy. As a whole, College Counseling and Student Development: Theory, Practice, and Campus Collaboration represents a comprehensive text, rich with information and resources, orienting and beckoning developing counselors and administrators to the college counseling milieu.
Paladino, D. A., Gonzalez, L. M., & Watson, J. C. (2020). College counseling and student development: Theory, practice, and campus collaboration. American Counseling Association.
Reviewed by: Ellie S. Karle, NCC