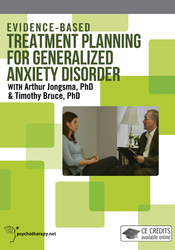 In their comprehensive and user-friendly video, Evidence-Based Treatment Planning for Generalized Anxiety Disorder, Drs. Arthur Jongsma and Timothy Bruce provide a core foundation for understanding as well as treating generalized anxiety disorder—all within 70 minutes. Additionally, the authors adequately demonstrate how research can be translated into practice by using an evidence-based framework to treat symptoms consistent with generalized anxiety disorder. Other benefits include the transcript provided with the video because it enables viewers to follow along with ease, as well as provides the variety of learning methods included in the video, such as the dialogue throughout the interview, PowerPoint slides, and case vignettes that include exchanges between a practitioner and client.
In order to provide their audience with an organized, step-by-step guide for counseling an individual presenting with generalized anxiety disorder, Bruce and Jongsma (2012) incorporate six modules and four clinical vignettes to best illustrate their treatment practices. Specifically, the authors address DSM criteria and related clinical features, provide a historical framework that highlights the movement towards empirically supported treatments, emphasize key elements for treatment planning, target relapse prevention, and utilize a six-step treatment planning process grounded in evidence-based practices. Throughout the video, terms are clearly and explicitly defined.
In addition to highly educational information, Bruce and Jongsma (2012) include a multitude of clinical references, online resources, and concise yet extremely applicable case vignettes. In this video, the four various vignettes provide specific examples for how behavioral definitions, long-term goals and short-term objectives are used when working with clients, all while meeting the standards for empirically supported treatments. For example, in the first vignette, relaxation is demonstrated by using a guided imagery procedure that also incorporates body scanning and cue words to help the active and tense mind experience relief. In the second and third vignettes, stimulus control and worry time are targeted, with examples that can be applied to daily life. Similarly, the authors clearly show how evaluating the evidence, predicting the likelihood, and exploring best- and worst-case scenarios can help reduce generalized anxiety. In the final vignette, a role play is used while working through a sample treatment plan. Relapse prevention is also included.
The strengths of this video are clearly evident, yet it is also important to note several limitations and growth opportunities for future videos and related resources. First, it would be helpful to include a vignette before the 30-minute mark, as a vignette truly captures the attention of the audience and also makes it easier to translate theory into practice. Second, while discussing short- and long-term goals, it would be helpful to describe measurement and strategies for evaluation. Third, the client in the vignette seemed highly receptive, willing and ready to change. For at least one vignette, the therapist(s) may consider working with a client who feels stuck or who exhibits some resistance or hesitation in using imagery or postponing worry.
In summary, Evidence-Based Treatment Planning for Generalized Anxiety Disorder is an excellent resource for practitioners counseling clients presenting with anxiety. It is a hands-on resource and provides a comprehensive guide to treating generalized anxiety disorder while also using empirically supported treatments. Both beginning and veteran clinicians are sure to benefit from this video.
Reviewed by: Mary-Catherine McClain, The University of Georgia Counseling and Psychiatric Services Center.
John Wiley & Sons (Producer). (2012). Evidence-Based treatment planning for generalized anxiety disorder with Arthur Jongsma, PhD & Timothy Bruce, PhD [Streaming video]. Retrieved from www.psychotherapy.net
Available in streaming format and as part of video subscription at www.psychotherapy.net/subscriptions.
The Professional Counselor